Everything is backwards now, like out there is the true world, and in here is the dream. – Jake Sully (Sam Worthington) written by James Cameron
I remember blogging about just the idea of Avatar knowing James Cameron was behind the film and Sam Worthington had the lead role.  I was already convinced I was going to be taken on an incredible journey.
T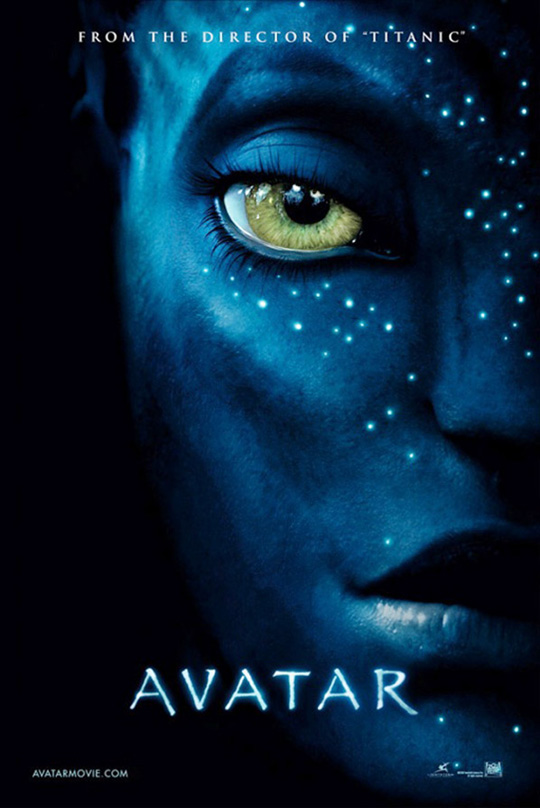 he more I started to dig about the movie the more fascinated I have become. Knowing the story of James Cameron working with such a large staff of people is incredible.  The fact the movie was a vision in James Cameron's head and all of these people made it into a reality… wow…what an art form. You can even investigate about the cameras that were made to make this movie and of course for those to follow. Cameron could hold a camera in his hands and move around the set while the actors were performing and see the 3D world on the screen. This allowed for incredible shots and angles to be captured.  That was honestly one of the best things I learned in addition to the fact the actors were wearing cameras that captured their facial responses which truly made their characters so real.  You can find a great read here, but it's a little length but truly a great read. If you're more visual check out the Youtube video or click the links at the bottom of this post.
The movie is honestly just a ride to take. I can't even tell you how amazing it is with my words as it takes seeing it to really feel what it is that I am going to try to express in a second. The whole time, from the moment I got into the theater, received my 3D glasses (that I almost didn't want as the ticket was 13 bucks to see in 3D) , and finding my seat in the crowded theater (It was an hour and a half before the show started, mind you. Wow).  Once the previews started which were also in 3D, my first experience by the way. I was captivated. It wasn't what I thought it would be. I was pointing at things that seemed to come at me and my row of friends were doing the same. Laughing and smiling, disturbing the theater as we were new to the whole 3D thing.  The glasses weren't bad at all I kind felt like Tom Cruise back in the day.  The movie started and the voice over of  Jake Sully (Sam Worthington) hit the surround sound and I was in it, excited as heck. Once the story was laid out, which happened quickly as you're immediately introduced to Jake Sully his new life.
I was thrown into this world and I loved every bit of it. I was taken away for three hours to Pandora. I will never forget the feeling of watching the movie, and experiencing it in 3D. I felt like I was in planes, ducked a few times when things were flying out of the planes. I felt as though I was flying for the first time on my own mountain banshee. I smiled in the theater with a bunch of strangers. (I wanted my own Banshee by the end of it). My mind was smiling the whole movie, it was joy and honestly a work of art that just activated parts of my brain that I wasn't used to using in movies (as they usually suck and I'm venting in my head). From the colors
and the invented plants and creatures, to following Jake Sully through the world just as you are being exposed to it.  Also the beauty of the Na'vi people themselves. Their belief and insight, the pretty blue dots on their face and gorgeous eyes. It was gorgeous how their long braids linked them into the spirit of the forest, their ancestors. As well as the animals they would ride. Wicked cool. All of it is truly movie defining.
For those hours I lived within the life of Jake Sully, I was happy Sully had the opportunity to run again, I felt his curiosity as he entered the world, his fear when night fell and he was alone.  I was angered when Sully had teamed up with the Colonel, but I forgave him as he didn't know what he was missing. He followed orders that's all he knew.  I fell in love with Pandora with Sully, Netyri was pretty awesome so I approved of his love for her, (he was just as strong as she was).  I was hyperventilating when their beautiful tree was destroyed by the humans on Pandora.  I mourned Neytiri's father.  I cried when Grace could not be saved…pissed actually as she was one of my favorites. All of it…a treasure. Even the fact the couple said 'I see you' to each other rather than 'I love you,' as lately in cinema the 'I love you' scenes have become cliched and irritating and you can't figure out why they are in love in the first place. I see you goes a beyond  'I love you.'
I remember glancing around the theater during the movie, it was silent in there, 3D glasses on, and everyone was so focused hanging on to ever word and pixel and yet lost. As if their bodies were there but their mind was dancing around the jungle of the Na'Vi people.  It was incredible that that many people were captivated.
The message of the movie is simple and yet so deep. I understood it all. But rather than typing all of that here. I'll just say it was so well written, so many beautiful lines. that may seem simple if you haven't' seen the movie, but what puts weight to them is the story, the characters, their past…
[as Jake pleads for Eywa's help in attacking the "Sky People" ]If Grace is there with you – look in her memories – she can show you the world we come from:  There's no green there. They killed their Mother, and they're gonna do the same thing here.
All I ever wanted was a single thing worth fighting for. – Jake Sully
Dislikes for a like, first, dislike,  hard to think about but I have to as it's my job as an upcoming director… Hmm…I was curious as to why there wasn't a 'before it all scene', where we find out why exactly they are all on Pandora. But I thought about all this after the fact, not during the movie as I understood by listening to dialogue. (hard for me to dish it out to this one lol).  I didn't like how the first Na'vi member Jake meets is the one he falls in love with. I kind of wished he had been saved and brought to camp and educated  by another member of the Na'vi.  But I still enjoyed those scenes of him being taught by Neytiri. Dislike, the music wasn't what I thought it would be, a few good ones (war scenes and flight), some were truly great and others were alright but the worst one is performed  by Leona Lewis killed me once the credits began to surface and I bolted.  A like:  I truly liked how the love scene between Sully and Neytiri wasn't gross like usual not A**es or Ti***es, thank goodness. It was pretty and I didn't have to close my eyes or plug my ears. For a moment I thought I was going to get something I didn't pay for, but it ended and I thought well that was well played. Dislike/Like:  I almost don't like how he was able to fly the Tyeruko like Neytiri's grandfather, it felt so 'he gets the big gun.' As the outsider makes Na'vi history…  But at the same time it wasn't poorly executed for the opening line from Jake Sully,  "Where I had it figured, Tyeruko's the baddest cat in the sky. Nothing attacks him. So why would he ever look up? That was just a theory." He says this as he leaps onto this Great Leonopteryx and flies to the people as this incredible leader in the making. And with the good voice over of Sam Worthington and already loving the character it wasn't tragic at all.  The build up was well done so I dig it.  Dislike: if he was going to replace not only Eytukan but also Tsu'Tey why didn't we get to find out more about Tsu'Tey, just to feel why he was the next chosen leader? I suppose that goes for a lot of the fact we didn't get to meet other Na'vi people. But I am assuming with a sequel coming we will get that. But I still wish I was able to get to to know Tsu'Tey.
A fun quote:
This isn't the 3-D of the 1950s or even contemporary films, those flicks that try to give you a virtual poke in the eye with flying spears. Rather Mr. Cameron uses 3-D to amplify the immersive experience of spectacle cinema. Instead of bringing you into the movie with the customary tricks, with a wide screen or even IMAX image filled with sweeping landscapes and big action, he uses 3-D seemingly to close the space between the audience and the screen. He brings the movie to you….Few films return us to the lost world of our first cinematic experiences, to that magical moment when movies really were bigger than life (instead of iPhone size), if only because we were children. Movies rarely carry us away, few even try. They entertain and instruct and sometimes enlighten. Some attempt to overwhelm us, but their efforts are usually a matter of volume. What's often missing is awe, something Mr. Cameron has, after an absence from Hollywood, returned to the screen with a vengeance. He hasn't changed cinema, but with blue people and pink blooms he has confirmed its wonder. http://movies.nytimes.com/2009/12/18/movies/18avatar.html
(Read part two of Avatar! – All about the performances)
Great links:
Avatar Behind The Scenes
Avatar Story Featurette
Animation Techniques
The Art of Performance Capture
James Cameron's New 3-D Epic Could Change Film Forever | Magazine
Movie Review – Avatar (Fox) – A New Eden, Both Cosmic and Cinematic – NYTimes.com
Avatar: Reviewing the Reviewers
PROJECT 880: THE AVATAR THAT ALMOST WAS
The creatures of 'Avatar' were 15 years in the making
Official Website: www.avatarmovie.com